Fast, Secure, and Reliable WordPress Hosting
Pre-installed WordPress & Automated updates
Fully Managed Services
Intuitive Dashboard for Effortless Management

Automatic Website Backup

in the Cloud by CodeGuard

Website Malware & Vulnerability Scanning

by Sitelock
Use Coupon Code: mywordpress
---
Hosts One Website
Supports 25,000 visits/month
CPU 2 Cores
2 GB RAM
5 GB Storage
Sitelock Website Security for 100 pages per Website
1 GB Automated Cloud Backup
Unlimited Email Accounts
Hosts upto 2 Websites
Supports 2,00,000 visits/month
CPU 4 Cores
4 GB RAM
20 GB Storage
Sitelock Website Security for 100 pages per Website
5 GB Automated Cloud Backup
Unlimited Email Accounts
Hosts upto 5 Websites
Supports 5,00,000 visits/month
CPU 6 Cores
6 GB RAM
50 GB Storage
Sitelock Website Security for 500 pages/site
10 GB Automated Cloud Backup
Unlimited Email Accounts
Hosts upto 5 Websites
Supports 3,00,000 visits/month
CPU 6 Cores
6 GB RAM
80 GB Storage
Sitelock Website Security for 500 pages/site
25 GB Automated Cloud Backup
Unlimited Email Accounts
*Pricing Exclusive of Taxes
---
WORDPRESS HOSTING FEATURES
Pre-installed WordPress & Automated updates
Easy, quick setup for your WordPress websites with automatic WP Core updates to keep your sites secure!
Daily malware scanning
Enjoy peace of mind from security threats to your WordPress websites with automated backups powered by CodeGuard, and daily Malware Scanning with 360o Website Security by SiteLock. Improve security by setting up SSL Certificates on WordPress in 3 easy steps – generate csr, activate, install through our custom interface.
Managed Services for WordPress
Free up your time & efforts to focus on your core business of making brilliant websites, while we handle the technical details for you! What's more, instantly adjust to traffic spikes by scaling up your CPU & RAM.
---
WORDPRESS HOSTING PLANS INCLUDE
Intuitive Dashboard for Effortless Management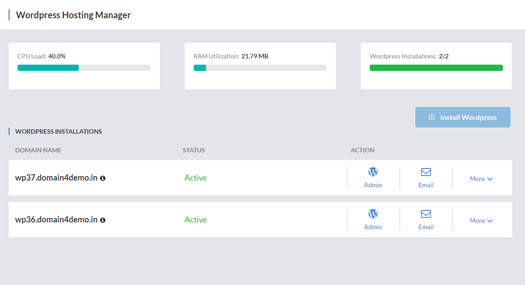 Our WordPress Hosting Plans give you a feature-rich control panel to manage your WordPress Websites, Email, SSL & more as well as monitor usage of CPU Cores and RAM on your package.
Login to WordPress Dashboard
Install & Manage WordPress instances
Monitor resource utilization
Setup SSL in 3 easy steps
---
Website Backup in the Cloud by CodeGuard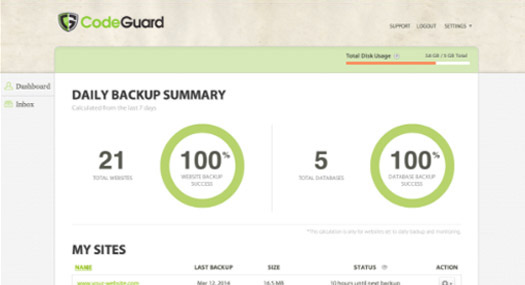 Every WordPress website with our WordPress hosting plan comes pre-integrated with CodeGuard, the popular cloud based backup solution. Set up automatic back ups on the cloud for all your blogs and restore in a few easy clicks, if the need arises!
Monitor Daily for Changes
Automatic Backup
Full Website Restores
Unlimited Databases
---
360° Website Malware & Vulnerability Scanning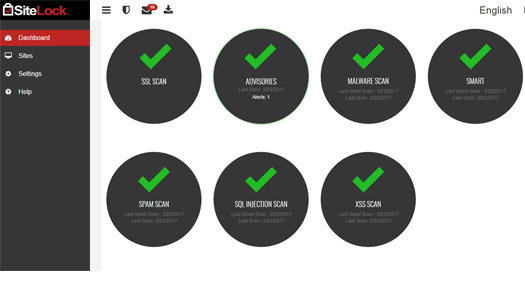 Give your WordPress websites world-class protection with daily malware scans, FTP scans & vulnerability removal. Add a SiteLock seal to your sites to boost your customer's confidence!
360° Website Security
Comprehensive Website Security
24/7 Dedicated Support
Scanning and Malware Removal
---
FREQUENTLY ASKED QUESTIONS
What is WordPress Hosting?
WordPress is an online, open source website creation tool written in PHP. WordPress hosting is a hosting plan designed with optimized security, speed, backups, WordPress updates, and scalability for hosting WordPress websites.
What is Codeguard?
CodeGuard provides an automatic website/database backup solution. It monitors your website/database regularly and if any changes are detected, it notifies you. It also allows you to restore your website/database to a previous version. You can have a look at our CodeGuard plans, here.
What is Sitelock?
SiteLock screens every aspect of your web presence, daily to identify security gaps. It not only checks your website, email and applications, but also search engine blacklists and spam filters. SiteLock not only identifies threats, but also fixes them for you automatically. This way, SiteLock works in the background to protect your website. You can have a look at our SiteLock plans, here.
Can I upgrade my WordPress Hosting plan?
No, You cannot change upgrade or downgrade your hosting plans, however the amount of RAM and CPU cores for your plan can be upgraded.
Can I add more websites to an existing plan?
No, you cannot add more websites to any plan. The number of websites will remain fixed.
Can SiteLock and CodeGuard packages be upgraded? 
Currently, the included SiteLock and CodeGuard plans cannot be upgraded.
Can I use an external email service with WordPress Hosting?
Yes, you can use any 3rd party email service for your domain. In case you are using the default name servers provided with your WordPress Hosting plan, please contact our Support Team to update the relevant DNS records for your blog.
Can I use an existing certificate with my website?
No, you cannot use an existing certificate. You will need to generate a CSR from the WordPress Hosting panel and get a certificate issued which can be installed from the panel.
Will WordPress be updated automatically?
Yes, WordPress core updates will be enabled by default.
Is there a money back period for WordPress Hosting?
No, none of our WordPress Hosting plans have a money back period.
Is Multisite supported with WordPress Hosting?
Wordpress Multisite is not supported. However, if you require to install multiple websites, you can choose from 3 of the 4 WordPress Hosting plans above which will enable you to have separate WordPress instances for each website.
Can I access the cPanel for my hosting plan?
No, cPanel access is not provided with any of the WordPress Hosting Plans.
Is an SSL Certificate included with the plan?
No, currently an SSL Certificate is not included with the plan. You will have to purchase the certificate separately.